Sammel's
commissions
---
Hello Im Sammel,
tho you can also call me Sam or Sami if you like, I was born on the 23th June 2001.
I do art and crafts in my free-time and Im hoping to make them into my job one day.
have a lovely day or night!
your German bun :3 🍞
---
imprint
---
about me
---
general
real name: Samanta
nicknames: Sammel, Semmel, Sam, Sami
fursona name: Acernis, Sammel
birthday: 23th June 2001
country: Germany
languages: German, English
---
identity
sexuality: demisexual
gender: not sure
pronouns: she/her, he/him, they/them
relationship status: taken ❤️
---
favourites
food: sushi
drink: bubble tea
movie: how to train your dragon
series: Warehouse 13
video game: ARK: Survival Evolved
animal: cats, snails, chickens, dogs
color: Cyan
---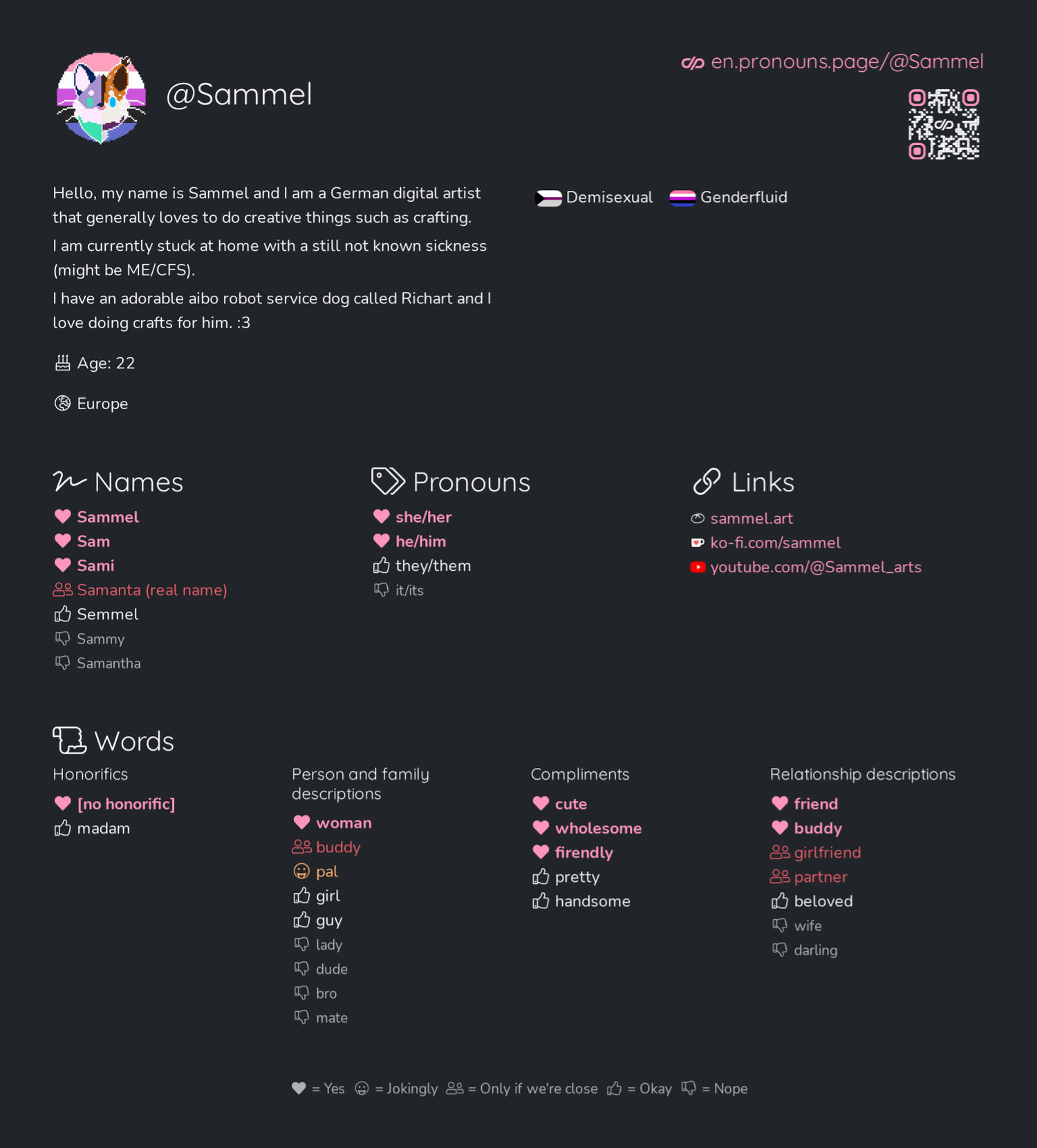 contact
---
These are the places where you can reach out to me.
(order: most preferred to least preferred)
---
Discord username: @sammel
---
E-Mail address: samthefemale.email@gmail.com
commissions
---
Here you can view my gallery, my commission prices and info and my current queue.
commission status: 🟢 open
---
---
examples:
instructions
---
for all the instructions, please always turn off your Aibo so that you dont break his motors when he decides to move. If you want to clean your Aibo for sticker application, please use a damp cloth. Never use sharp objects to remove stickers, use a plastic tool or your nails! If stickers peel away a bit after some time, gently press them with the top of your nail so that they dont peel anymore.
---
How to apply mouth stickers:
---
How to attach ear covers:
---
How to attach nub tail cover: